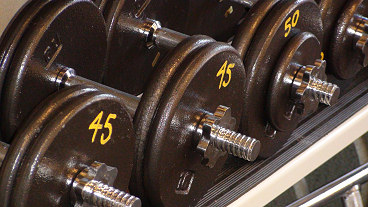 Did you know that we have an on-site fitness room available for use by those working at IOS and PGC? The fitness room includes about a half-dozen pieces of cardio equipment, a large area for fitness classes (5-6 people), large TV and DVD/VCR player, computer (for other video formats), free and fixed weights, medicine balls, various strength equipment, an inversion rack, mats, balls, TRX, and so on. This equipment has been acquired over the last many years as part of the health and wellness at IOS and PGC. The fitness room is self-maintained by the users, meaning that users are responsible for cleaning up after they are finished and helping to repair equipment when necessary.
Orientation Session
If you are interested in using the fitness room, there is a mandatory once-only orientation session that is required. The cost for the session is $10 (cash or Interac to info@yourstaffassociation.ca only) and you should contact Steve Romaine to arrange a session. Please download a copy below and bring it along to the session. For the orientation, you will learn about the safety concerns of using the fitness room, how to correctly use all the new equipment in the room, plus gain valuable tips on designing a fitness program. The session will be between 20-30 minutes long and you may wear your usual work clothing.
Annual Fees
There is an annual fee to help pay for the fitness room equipment lifecycle issues and to ensure that fitness room users will continue to have well-maintained and safe equipment for use. Fitness room users are more than welcome to have a say on how collected fees should be used in the fitness room. The annual fitness room fee is $30/year (1 Jan – 31 Dec) and includes unlimited access to the fitness room. There are no discounts for partial year or seasonal use and there are no discounts for students. We also do not offer a "drop-in" rate.
Fitness room memberships fees may be paid to the Staff Association Treasurer (Reet Dillion) by either cash or Interac transfer. Access to the Fitness room via your building access cards will be activated once the Treasurer verifies that your fee has been paid and that you have taken the orientation session. For those that previously took the orientation session, but that do not wish to pay the membership fee at this time, you may still re-join the fitness room in the future with a paid membership and you will not have to repeat the orientation session.
Your Fitness Room Committee:
Reet Dhillon and Steve Romaine